May's Diary
MY DESCENDENTS
Grand-Pa must be crazy. First, he wants I call him Abuelo, an impossible word to pronounce. He has now changed to Lelo, as he thinks it is easier to say.  What a big mistake! Grand-Pa does not seem to know that I am very little to learn and know a good number of languages, as he seems to know.  He writes in different idioms, so I can see when Mum has the funny idea, very rarely, to open her machine and read her mail or write her papers, that she call essays. 
Gran-Pa seems to have a great affection for me: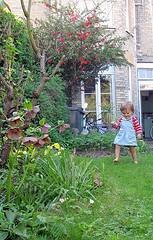 There is not letter that he writes to me, to fill it up with my pictures. I must confess that I do not remember the way he is. I saw him only once, more than a year ago. I do expect he does not start filling me with kisses and embraces: I am British and we do not touch people!
 I must confess, anyway, that I look forward to seeing him again for kissing him, embrace him, and, probably, go for strays by the sea.
 Mum
These are me as a baby, Mum after three days delivery, and Dad, having Italian ice creams in winter…
 Abuelo says that he has more descendants, and it is true :
There is Auntie Paula  
and her birds, and her children, Maira Rose who will be 8 on the 9th of May, and Tomas, to be 11 on June 20th. In addition, my becoming brother, Lucas as Abuelo says, he should be named... He wanted me to be called Elisa, two months elapsed I was called carrot, until Dad and Mum decided to call me May Malen. 
 and cousin 
Maira Rose and aunt Paula, once more
 and, finally, me on my arm chair  
Where is Uncle Cristan?
Here I have Uncle Cristan ad cousin Tomas:
The story ends here. Having found the picture of my little family, apportioned all over the world. Grand Ma Gloria is not here, but she is in others memories I have written before
Bye!
May Malen , April 16th,Cambridge,UK
I´m grateful to Abuelo or Avô or Grand Pa for lending me his computer and his abilities to write, to send this letter three days before my visit to Portugal, to see Abuelo!
And finally, with Grand Mum: 
 Where is Abuelo? 
There he is!